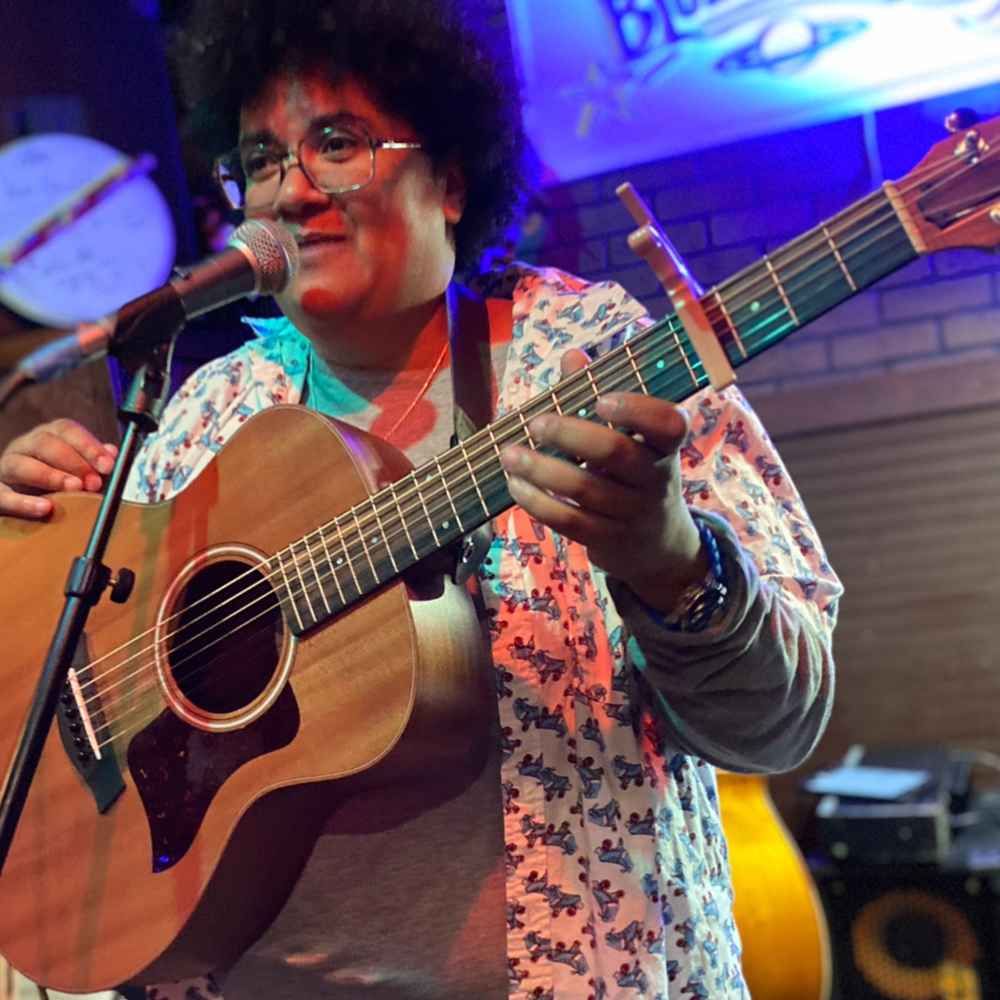 Meet Jennifer
Musician and Songwriter
Meet Jennifer Msumba, an award winning musician on the autism spectrum and author of the memoir Shouting At Leaves. Her distinct perspective gleams in her original compositions, and Jennifer's infectious light and heartwarming music brightens any space she occupies. Her music has the power to touch the depths of your heart.
Jennifer won her way onto the stage of Fenway Park on August 24, 2023 as part of the Doug Flutie jr. Foundation for Autism STARS of the Spectrum event. The foundation had put out a nationwide search for the coveted last spot in the lineup and Jennifer shined her way to the finish line.
Forever the lyricist, Jen finds inspiration for her songs in the in-betweens of life. Moments that might go unnoticed by many, are perceptible to her, and she is quick with her pen to document them and all their colored emotion. Where Jennifer often finds it hard to express herself verbally, she is able to channel her observations into song. Her following might be small for now, but her message is mighty. Jennifer is one to watch.
Listen now on Spotify, Apple Music, YouTube Music and more.
"

Stop apologizing for taking up space in this world...You belong here as much as anyone else" - Mom
Press
Tampa Great Day Live- "Singer with autism performs at Fenway Park"
Spectrum Bay News 9- "Autistic Florida woman to sing in 'STARS of the Spectrum' concert at Fenway Park in Boston"
Variety- 'Fish Don't Care' Takes Top Prize at Easterseals Disability Film Challenge
Creative Loafing Tampa Bay- "Tampa Bay artist Jennifer Msumba spotlights neurodiversity and empathy in new film"
Bay News 9- "Bay Area autistic filmmaker gets professional help with next project"
SRQ Magazine-  "Songstress Jen Msumba Overcomes Adversity with Full-Length Album"
The Bradenton Times- "Music Compound to Highlight Local Artists"
Sarasota Magazine- "Jennifer Msumba Draws From Her Autism to Create Messages of Hope"
Upcoming/Past Shows
UPCOMING 
September 27, 2023- Marketing on Main Networking Event, Sarasota Florida
PAST
September 23, 2023- Secret Stash Tampa
September 19, 2023- Jennifer Msumba @Willamette River Cruise Eastco, Portland Oregon
August 24, 2023- STARS of the Spectrum Concert @Fenway Park 
April 30, 2023- Jennifer Msumba @Gasparilla Music Festival, Tampa Florida
April 12, 2023- Jennifer Msumba @EastCo Retreat speak/perform, Skamania Washington
February 1, 2023- Jennifer Msumba @Bower School of Music Tobe Recital Hall, Ft. Meyers Florida
August 11, 2022- Jennifer Msumba @Studio620, St. Petersberg Florida 
April 9, 2022- Jennifer Msumba @Word of South Festival of Literature and Music, Tallahassee Florida
April 8, 2022- Jennifer Msumba, Michael Bakan and Jack Straub @Blue Tavern, Tallahassee Florida